Representatives from Argentina and the United Nations High Commissioner for Refugees (UNHCR) met last week to discuss opportunities for relocating Ukrainian refugees fleeing the war with Russia.
Argentina's Foreign Ministry on March 12 announced that one of its senior advisors, Luciana Tito, met with regional representative for the UNHCR, Juan Carlos Murillo, "to identify available programs and resources in order to provide an immediate response to the demand for humanitarian assistance that Argentina could receive."
The government had earlier announced that it would grant humanitarian visas to Ukrainians, providing them temporary protection and allowing them to freely enter Argentina and stay up to three years. Once the three years expire, according to the announcement, beneficiaries have the ability to formally request residency.
Argentina has also been providing Ukraine with other forms of assistance, including sending humanitarian aid resources to the border with Poland. "Humanitarian assistance, solidarity between peoples, and the commitment to peace guide our international actions," wrote Cascos Blancos, the humanitarian aid coordinator for the Foreign Ministry, in a statement last week announcing the shipments.
While the administration of President Alberto Fernández has called for a diplomatic resolution to the war in Ukraine, it's stopped short of imposing sanctions on Russia, one of the largest importers of Argentinian beef.
A brief history of refugees in Argentina
This isn't the first time Argentina has collaborated with the UNHCR for receiving refugees. According to The Ministry of Justice and Human Rights, any person can ask for refugee status in Argentina since there are no restrictions on refugees from any country.
The country is home to over 185,000 refugees, asylum seekers and other populations of "concern" for the UNHCR, with the vast majority (145,000) of migrants coming from nearby Venezuela, fleeing their country's economic crisis.
According to the government, there are currently 6,000 people living in Argentina who are refugees or have requested refugee status, from countries including Syria, Colombia, Ukraine, Ghana, Haiti, Cuba and Nigeria.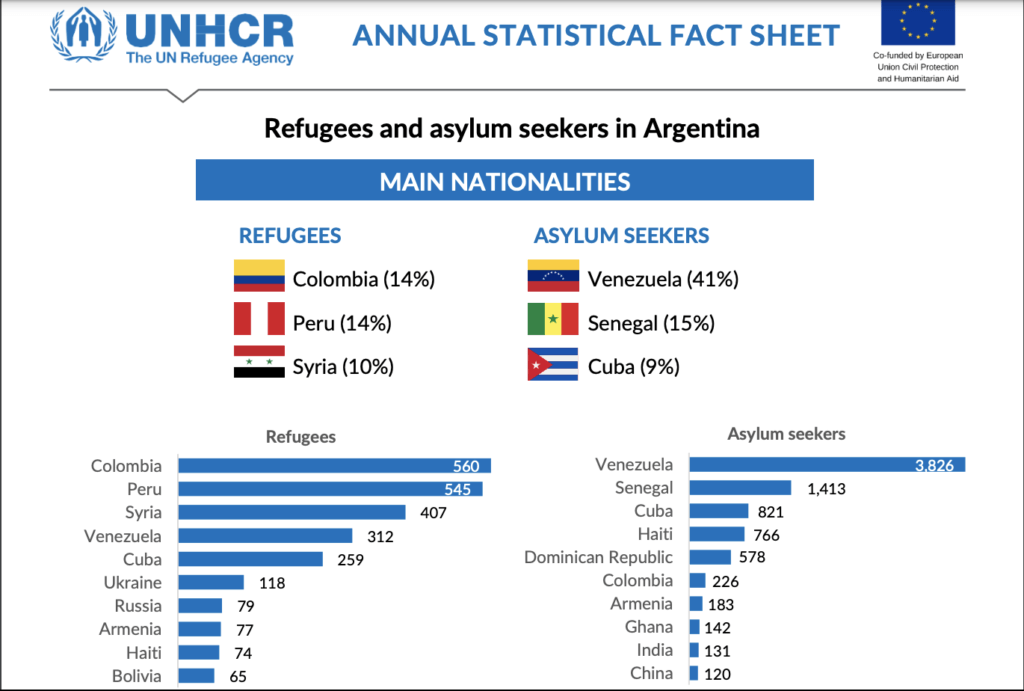 A brief history of Ukrainians in Argentina
Argentina is home to the second largest Ukrainian community in Latin America after Brazil with approximately 300,000 Ukrainians and their descendants living in the country.
Argentina and Ukraine's history goes back to 1897 when the first wave of 10,000 Ukrainians arrived. Shortly after World War I, about 70,000 Ukrainians emigrated to Argentina and in 1921 Argentina became the first and only Latin American country to recognize and establish diplomatic relations with Ukraine.
After the Second World War about another 6,000 Ukrainians traveled to Argentina and in 1993 both nations opened embassies in their respective capitals.
So far Argentina has shown support for the Ukrainian people but has not made any political stands in terms of the conflict. The foreign minister referred to the conflict in an official statement saying that, "Argentina reiterates its strong rejection to the use of armed forces and calls for Russia to stop all military actions in Ukraine."
However, he also rejected sanctioning Russia in a statement at the presidential building saying that, "Argentina does not consider that sanctions are a mechanism to create peace and amity or to facilitate an honest dialogue that helps to save lives."
He continued, "The only alignment Argentina has are the interests of the Argentinian people, that is the foreign politics of our country."
To date, the UN estimates that there are over 3.5 million Ukrainian refugees fleeing the war with Russia, most to nearby countries including Poland, Moldova and Romania. So far Brazil, Uruguay, Guatemala, Chile and Argentina are the Latin American countries that have offered their help to Ukrainian refugees.