Buenos Aires, Argentina — Argentina's national soccer team was greeted by 5 million fans on the streets of Buenos Aires on Tuesday after their win in the 2022 World Cup final against France.
After over 30 years – the last eight spent suffering, watching the world's best soccer player Lionel Messi fall short of bringing home his most coveted trophy – Argentina finally won the World Cup.
At 27 years old, I've gone my entire life watching footage of Argentina's glory years in the 80s and 90s, winning the 1986 World Cup under the leadership of another contender for the greatest soccer player of all time, Diego Maradona.
I desperately wanted to experience what my parents had experienced twice in their lives.
So on Tuesday, when the world champions made it home to Buenos Aires from Qatar to make the rounds in their victory parade, I joined millions of Argentines in what was arguably the wildest championship celebration in the history of sport — so much so that the players had to be airlifted out of the increasingly rowdy crowd.
Here's my experience; one in 5 million, on that day I'll remember forever.
Swarms of people in the streets
Anxiety was the first thing I had for breakfast. Living over an avenue in Buenos Aires, I was awakened by the drums, horns and chants of the pilgrimage of fans that were heading downtown early Tuesday morning.
When I joined them at around 11:00 am, swarms of people were weaving through the streets. A wave of blue and white shirts carrying championship star signs and donning Messi masks; the sweat dripping off of coolers full of beer and water glistened in the pre-afternoon sun.
By noon, I had already been through the heavily crowded Obelisco monument and was arriving at the central Plaza de Mayo, where the Casa de Gobierno (House of Government) is located.
Joy was radiating. Whenever I made eye contact with anyone, a spark was instantly lit and we'd burst into song or our favorite Argentina chants – sometimes we just kept it simple and screamed out, "We are the champions!"
"I can't explain it to you, because you wouldn't understand," one popular soccer chant goes. And that's what the feeling truly was like. When Argentina won the World Cup back in 1986, my dad traveled, standing on the roof of a bus, for more than 10 kilometers. How can you explain that passion in a way that somebody else understands?
"Muchachos, Ahora Nos Volvimos a Ilusionar" is sung by La Mosca Tse Tse, but it was written by Fernando Romero, a fan that sang it for the first time during a TV interview in 2021. It went viral immediately and it was even adopted by the national team and the traveling fans in Qatar. The tune echoed through the streets on the celebration day.
A wild goose chase throughout Buenos Aires
Throughout the afternoon the crowds grew. So too did the uncertainty surrounding the route that the championship team would take on their bus parade around Buenos Aires. People were desperate for any bit of information and rumors started spreading amongst the crowd.
"They are not coming to Plaza de Mayo," said some. "There's a stage, they will come here," speculated others.
Some even left to the 25 de Mayo highway, where the bus was rumored to be passing, but they didn't have any luck either seeing the team.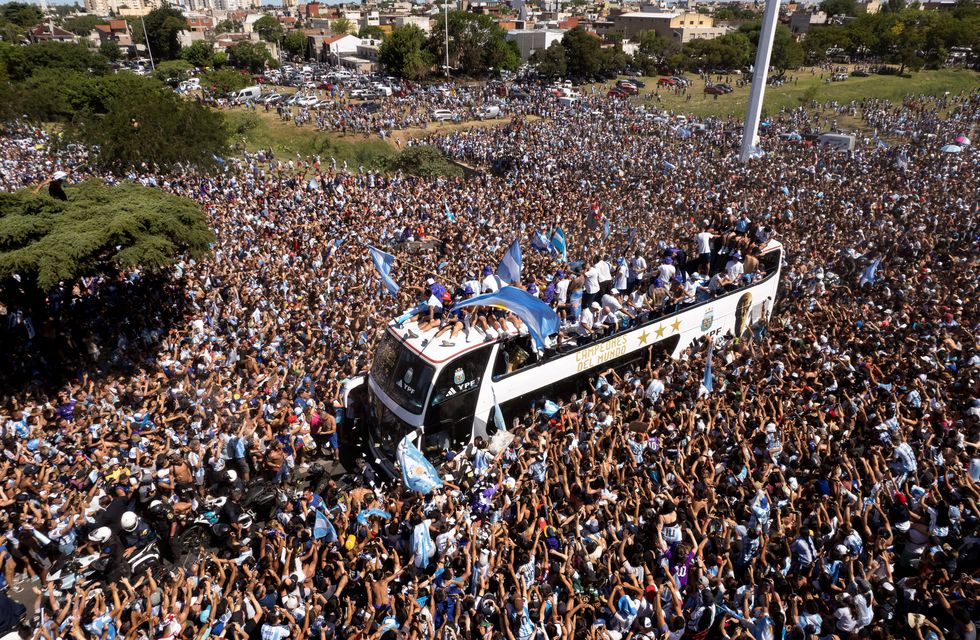 For lunch, I met some colleagues and we found some wifi and refuge from the scorching sun. Reading reports online, we saw that the bus had only traveled 10 kilometers in the first three hours due to the mass of people it had to snake its way between.
"They'll be here by midnight," was my first thought, but then a colleague of mine mentioned the harder truth, "They won't make it at all."
Although at first I didn't want to believe it, I knew it was a possibility.
Around 4:00 pm, the TV networks confirmed the worst – the players were being airlifted by helicopters out of the crowd and the parade was over.
My 10-year-old self was devastated. I only wanted to see Lionel Messi lift that trophy, and I didn't care if I did it from 10 meters or 100 meters away. I just wanted to confirm with my own eyes that he had made me the most happy Argentine in the world.
I wolfed down my last empanada and ran to 9 de Julio Avenue to at least get a glance of the helicopters that carried our national team away from the parade. When the aircrafts first appeared, someone yelled, "It's them"! and everyone began shouting, pointing and waving like madmen.
I remained still, taking in the fleeting moment as the helicopters passed by the Obelisco. I wanted that moment to feel like a big, warm hug. Instead, it was more like a swift pat on the back. Just seconds later, they were gone.
But the chase wasn't over. Rumors again swirled that the players were being airlifted to the Plaza de Mayo for a victory speech. I rushed there, sweat soaking my shirt.
When I arrived, it was extremely packed and people were restless. My pocket buzzed and I reached my hand in to check a text message from a colleague. It read, "They already went back to the camp in Ezeiza. It's over." I confirmed this with another colleague and then I started spreading the news to the people around me.
One of them replied, "It doesn't matter, the party will keep going, we are champions of the world!" The party was indeed far from over, and I went in search of a beer with friends.
We sang, danced, went through mosh pits and drank a lot more beer in an afternoon that seemed to last forever. I hugged and sang with an unusual amount of unknown people but that's the beauty of it, the beauty of a sports accomplishment that unites an extremely polarized country into an invincible mass capable of everything.
I never wanted that day to end – we all want genuine happiness to last forever.
A feeling my dad once had, I've now had too
When I got back to my apartment I reflected on what a bummer it was not to be able to see the players and the trophy.
But then I realized what I had done: I'd been a part of one of the most historical celebrations in Argentina, and arguably in all of sport; I rejoiced with close friends – and thousands of not so close ones as well. And that's something I will never forget.
Thanks to manager Lionel Scaloni, the legendary Lionel Messi and his teammates, I finally can say that I know how it feels to be a champion of the world, just like my father and mother did even before I was born. And it feels great.