"If Brazil sneezes, Argentina catches pneumonia," Susana Malcorra, Argentina's former Minister of Foreign Affairs famously said back in 2016. And she wasn't wrong: Brazil is the most important market for Argentine exports, its main source of tourism and the fourth largest investor in the country.
That's why the government of Argentine President Alberto Fernández is keeping a close eye on Brazil's runoff elections on October 30 between current president and conservative firebrand Jair Bolsonaro and former leftist President Luiz Inácio Lula da Silva.
In Lula, the Fernández administration hopes to recover an old ally. In Bolsonaro, the government will keep struggling to improve the economic relationship between both countries.
Both results in Brazil's election will have different outcomes for Argentina's and the region's economic future, the role of South America's trading bloc Mercosur, and could decide which country will emerge as a political leader on the continent.
What's at stake for Argentina's economy?
During the first eight months of 2022, Argentina received over USD $8 billion from exports to Brazil, and is expected to receive USD $12 billion by the end of the year.
"Brazil is the greatest destination for Argentine [small and medium sized enterprises], but especially for industrialized products," said Marcelo Elizondo, director of the DNI consultory firm.
The future of Mercosur, South America's biggest trading bloc, is also at stake in this election.
In 2019, a large trade agreement with the European Union was agreed upon, but has not yet been ratified. The agreement has been stalled in part by European governments and activists who oppose the Bolsonaro administration's lack of interest in protecting the Amazon rainforest.
For his part, Lula has voiced his interest in making sure the trade agreement is pushed through.
"If I win, in the first six months we will conclude the agreement with the EU," said Lula during his campaign.
Argentina's government eagerly awaits the signing of the agreement, but needs Brazil's support to achieve it.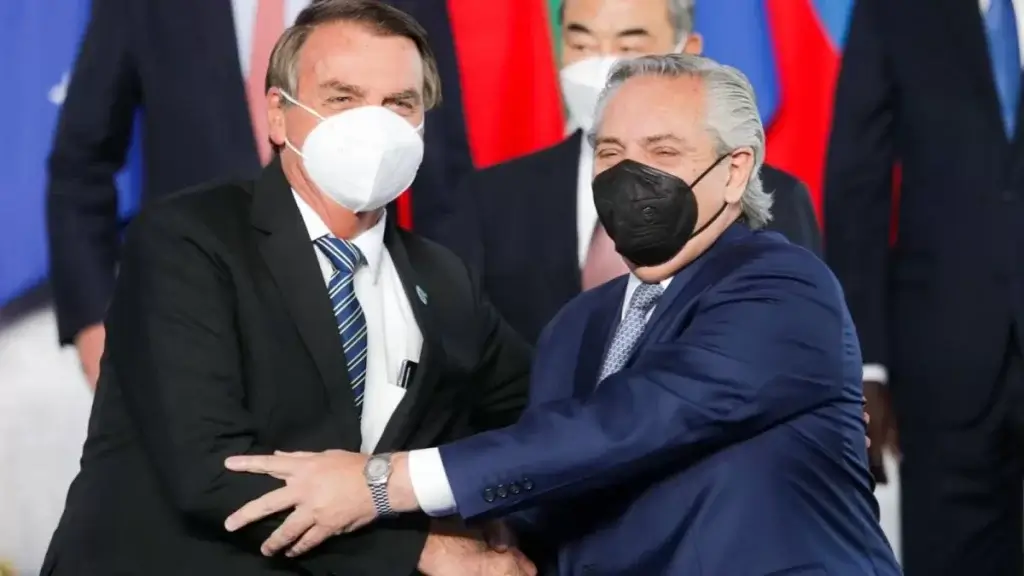 What to expect if Lula wins
"With a victory of Lula Da Silva, Brazil will have a more traditional role in regional foreign policy," said Welber Barral, former secretary of foreign commerce of Brazil in talks with El Cronista.
According to economist Martín Kalos, "Lula would want to prioritize the rapprochement and a geopolitical and economic agreement with Argentina," in contrast to what President Bolsonaro did in recent years.
Also, President Fernández would win back a huge political and strategic ally. Argentina's president vocally supported Lula while he was imprisoned for his role in the Lava Jato international corruption scandal.
"An alliance between presidents of the same political ideology who think of an integrated Latin America would be interesting to see," said Mr. Kalos in an interview with Ámbito Financiero.
What to expect if Bolsonaro is re-elected
If Mr. Bolsonaro is re-elected, "the roles would be reversed and he would begin to look at Argentina to see what happens in the 2023 elections, hoping that the ruling party will lose," according to political analyst Gustavo Marangoni.
"Jair Bolsonaro turned Brazil towards de-Americanization, making distancing from Latin America one of the axes of his hyper-ideologized foreign policy," said foreign affairs specialist Tomás Bontempo. "He flirted with the partial flexibilizations of Mercosur," he emphasized.
The continuity of this economic model would cause greater damage to Argentina in commercial terms, as it would have a negative impact in some key sectors of the economy, such as auto parts production and tourism.
The final round of the presidential elections in Brazil will take place on October 30 and Argentine government officials will be closely following its results, hoping to strengthen the relationship with its neighbor.