Buenos Aires, Argentina — Political firebrand Javier Milei, the Libertarian candidate for Argentina's presidency, stunned political pundits over the weekend when he received the most votes (around 7.1 million) of any candidate in the country's obligatory presidential primary elections.
Ahead of the primaries, Milei's party was tipped by analysts to only do as well as third place. So what happened?
The Wig
Milei, 52, is an economist and political outsider, running as the leader of the Libertarian party La Libertad Avanza.
He has shown his affection for fellow political firebrand former United States President Donald Trump, and has been compared to Brazil's former President Jair Bolsonaro, both of whom are currently under investigation in their respective countries.
A gun rights supporter, Milei has also attacked feminist causes, as well as climate change and human rights. He's advocated for dissolving Argentina's Central Bank, and has indicated he'd like to peg the country's economy to the U.S. dollar.
With what can only be described as a messily trimmed pompadour with thick, brown mutton chops, Milei has earned the nickname "The Wig" in the media.
Milei's success on election night
On Sunday, Argentina held obligatory primary elections to help the country's political parties decide which candidates they'll put forth for the general elections on October 22, 2023.
Milei surprised analysts by receiving 30% of votes in the country, more than any other candidate, including more traditional candidates like Argentina's Economy Minister Sergio Massa (Unión por la Patria) and Patricia Bullrich (Juntos por el Cambio), the former Security Minister under former President Mauricio Macri.
A map of votes created by La Nación uncovered a few surprises. Going into the primaries, analysts expected Milei to do well in the capital Buenos Aires, but not so well outside of the metropolitan area.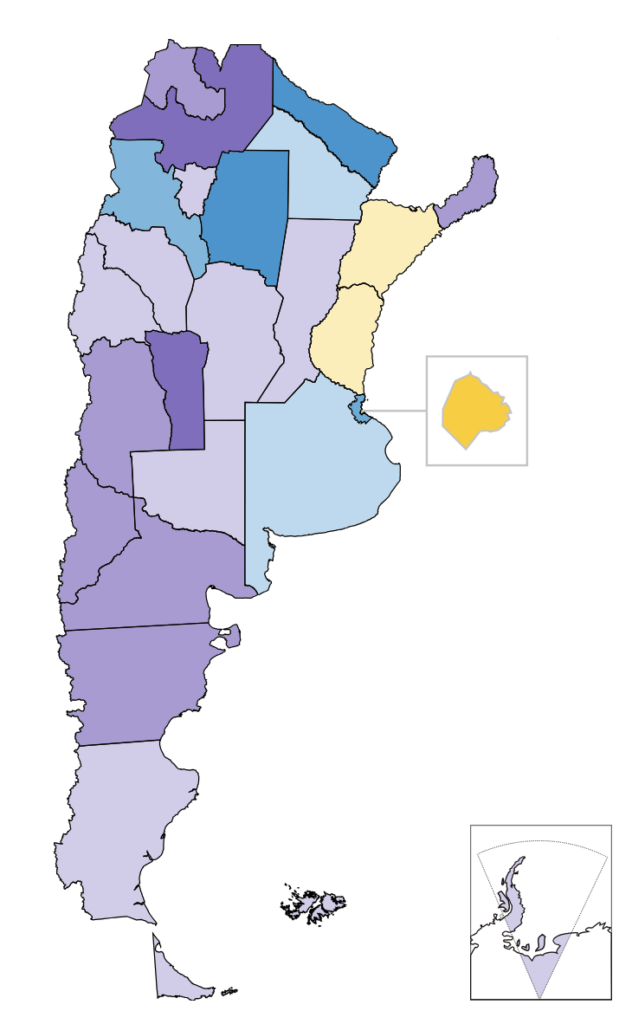 In fact, the opposite happened. Milei took third place in the capital (17.7% of votes) and third place in the province (24.5%). But he did surprisingly well outside of the capital.
Gubernatorial candidates backed by Milei had already taken part in regional elections earlier this year, and had very underwhelming results. It was expected that Milei would have the same fate.
While in provinces like Neuquén, Río Negro and Tierra del Fuego gubernatorial candidates backed by Milei barely received 10% of votes, on Sunday, Milei received between 35% and 39% in the Patagonian provinces.
In Argentina's interior, his La Libertad Avanza party also saw surprising success, winning 16 of 24 provinces. In provinces such as Mendoza, San Luis, Salta and Misiones, Milei received between 43% and 49% of votes. Four years ago, current President Alberto Fernández also won handily in general elections in those provinces.
In higher earning districts across the country, La Libertad Avanza tended to do well among voters — except in the capital. The party did not do well in districts where voters had lower wages.
Milei has also voiced his interest in cutting state spending, including cutting government jobs on the national and municipal levels. In districts where most voters tend not to be employed in government positions, Milei did well, while he tended to lose in districts where 51% or more of voters had government jobs.
Milei will face off with candidates Sergio Massa, Patricia Bullrich, Juan Schiaretti (Hacemos por Nuestro País) and Myriam Bregman (Left and Workers Front) in general elections on October 22. If needed, a run-off election is scheduled for November 19.