Just days after the widespread rejection of last week's re-inauguration of Venezuelan President Nicolas Maduro, incidents over the weekend have served as a reminder of the consequences of speaking out against his regime.

Whilst on his way to a political rally yesterday, January 13, footage released on social media shows Juan Guaido, leader of Venezuela's National Assembly (Maduro's main opposition), being pulled from his car and forcefully arrested.


Although impossible to identify from the video itself, shortly after the incident a tweet was released from Guaido's account signalling that he had been arrested by the SEBIN, Venezuela's internal security force, with his whereabouts unknown.

Intelligence agents had briefly seized the politician from his car whilst he was travelling out of Caracas for reasons that still remain unclear. However, much to the relief of his wife and children who were travelling with him on the way to the political rally, Guaido was released shortly after, his wife reported via Twitter.

Prior to this, the member of the centre-left Voluntad Popular (Popular Will) party had only just been put in charge of the National Assembly and was still relatively unknown, entering office at the start of 2019. Since president Maduro's party lost control of the Assembly when he took office in 2016, it has lost almost all of its power and is the last state institution to be controlled by forces that oppose Maduro's government.

In the days following Maduro's re-inauguration, Guaido had taken to the streets calling for a return to Constitutional order and in protest against the Venezuelan president, whom he refers to as a "usurper."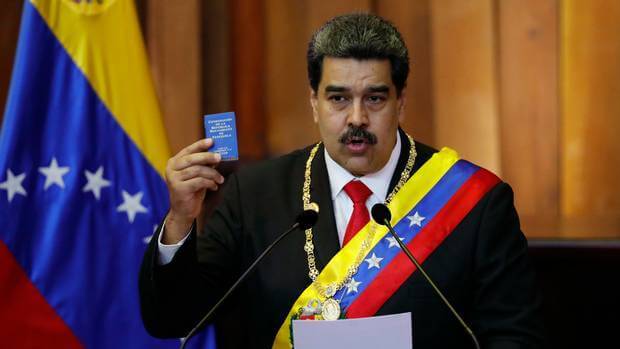 Argentina's Ministry of International Relations released a statement on Sunday January 13 showing solidarity with Guaido and reiterating their view that Maduro's government is illegitimate.

"This episode, which attacks the civil and political freedom of the Venezuelan people, and in this case the president of the National Assembly, confirms the imperative necessity of re-establishing democratic order and a respect for human rights in Venezuela."

The statement went on to call for Maduro's regime to assure the freedom – civil, political and of movement – of the Venezuelan opposition, "abstaining for any act of intimidation and harassment like that suffered by the president of the National Assembly, the only constitutionally legitimate political group in the country."

Sobre la situación del Presidente de la Asamblea Nacional de #Venezuela: 13 de enero / Comunicado del Gobierno argentino:https://t.co/f5CZyNGIiw

— Cancillería Argentina ?? (@CancilleriaARG) 13 January 2019
According to the BBC, two journalists reporting at the time of the incident were also arrested and released shortly after; Caracol's Beatriz Adrián and Spanish CNN's Osmary Hernández.

Following the day's incidents, Guaido put on a brave face and took to Twitter in retaliation.

"The regime tried to arrest me, but nothing, nor no-one will stop us. Here we carry on for our Venezuela," he wrote.

In a separate Tweet, he continued. "What happened today only serves to leave evidence that there is a rupture in the chain of command and that many members of staff will not bend their principles, nor act outside of the law."

Guaido also took advantage of the opportunity to remind his followers of the grave humanitarian crisis Venezuela is experiencing, which the United Nations have labelled one of the worst migration crises in Latin American history.

"What happened today will not allow us to forget that yesterday, a hospital lost light for over 5 hours, and a mother could not feed her child. In the face of this crisis, we will continue at the forefront of this battle until we retain Constitutional order."

However, government representatives have hit back at the victim's accusations, with Maduro's Information Minister Jorge Rodriguez insisting incidents were "irregular," and carried out in order to create a media storm. The intelligence agents who acted "on their own account," have now been fired and will be investigated, he assured.

BBC Mundo and Venezuela correspondent Guillermo Olmo summed up the incident via Twitter by raising a pressing issue.

"Today's incident reveals that the government does not control all elements of the security forces. The question is, who ordered the episode which has served to make this clear and, probably, strengthen the emerging leadership of the opposition."