Destined only for medical use, a 35 hectare public plantation of marihuana is being harvested in the north of Argentina. It's another landmark in the timeline of the medicinal use of cannabis in the country.
In the past few years, Argentina's relationship with cannabis has only grown closer. Led by NGOs and civil organizations, the fight for the legalization of marihuana has been a taboo in every administration, but significant improvements have been made since 2017 regarding cannabis, its health benefits and its legal framework.
Nowadays, universities, local governments and companies have been approved to build marihuana plantations spread throughout eleven provinces.
In the northern province of Jujuy lies one of the most important public plantations of medicinal cannabis of Latin America. At the foot of the mountain, 35 hectares (around 86 acres) of marihuana plants are being harvested and will be available to increase the production of Cannava CBD 10 pharmaceutical oil and other medicinal products.
The state-owned company Cannava, based in Jujuy and created in 2019, is in charge of the production of these cannabis derived products. Their crown jewel is this oil rich in CBD — around 10% — destined for the treatment of refractory epilepsy and related neurological diseases which is already being sold at local pharmacies.
The first approved cannabis derived product made in Argentina was Convupidiol, a special medicine used to treat certain types of epileptic seizures.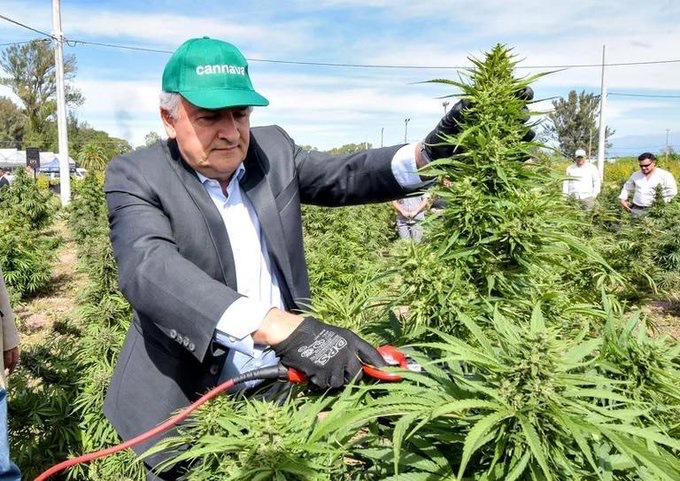 Timeline of the use of medicinal cannabis in Argentina
In 2017, Congress passed bill 27.350 which authorized, for the first time in history, two public institutions to cultivate cannabis for medical and scientific research purposes, and to produce the plant to supply the Ministry of Health's cannabis program. Almost two years later, a decree granted "exceptional" access to products containing cannabinoids for patients with certain diseases such as refractory epilepsy.
In March 2021, the Ministry of Health announced the full approval of the Cannabis Program Registration System (Reprocann), which allowed the registry of users who access the plant and its derivatives "as a medicinal, therapeutic and/or palliative treatment for pain, through controlled cultivation."
With Reprocann, any citizen with a verifiable medical condition — from epilepsy to anxiety — who applies to the program can legally cultivate their own plants and carry "up to 40 grams of dry flowers" on their person.
Nowadays, a project that intends to improve the existing medicinal framework and legalize the different production stages of hemp or industrial hemp and its by-products is waiting for its approval at the House of Representatives as it has already been approved by the Senate last year. According to the Minister of Productive Development and main promoter of the bill, Matías Kulfas, the bill will generate "quality jobs, 10,000 jobs and new export economic activity."